Print On Demand Suppliers
In this section I am going to give you some examples of good print on demand companies that you might consider using if you decide to start a business in this area.
In no particular order – as they say on the reality shows:
Zazzle
Zazzle is a fantastic website which has over 1300 products in many niches. In fact, just looking at the contents list on Zazzle at the head of the website homepage will probably give you ideas for a niche if you don't already have one. You see, it is such a comprehensive list that you could quite easily decide to offer things just for weddings or specialize in products for pets or anything really that you are interested in.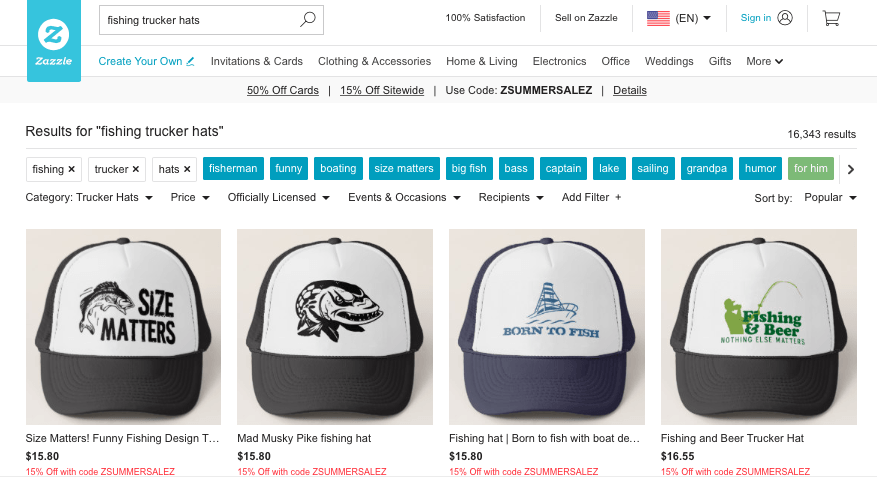 Or you could decide to go in the opposite direction and specialize in the product rather than the niche. Then you would only offer bags or only T shirts or cards to a variety of different niches.
Interestingly these Father's day ideas on Zazzle are nicely different from other companies but this is supplied from a supplier within Zazzle.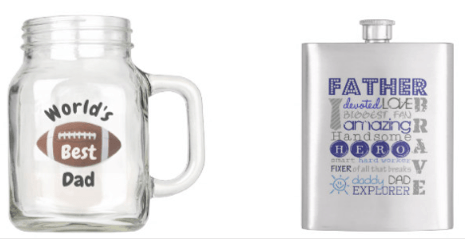 When you study the flask product description in more detail you see that it was made by a company that has a set up within Zazzle and designed by a different company and offered in a shop within Zazzle. So Zazzle is worth looking around. There is some buried treasure in there that you might not spot at first glance.
Whatever you decide, Zazzle is a great place both to get ideas and to get your products up and running.
You can also become an affiliate for other people's product on Zazzle.
Pros – huge range of good quality products
Cons – slightly more expensive than some and a bit more complicated to understand.
To visit https://www.zazzle.com
Teespring
When t-shirt printing / selling first became popular on Facebook Teespring was at the very forefront of this huge business. The numbers being sold were huge and print-on-demand became very popular for clothing particularly on Facebook. T-shirts in summer and hoodies in winter made some people a lot of money.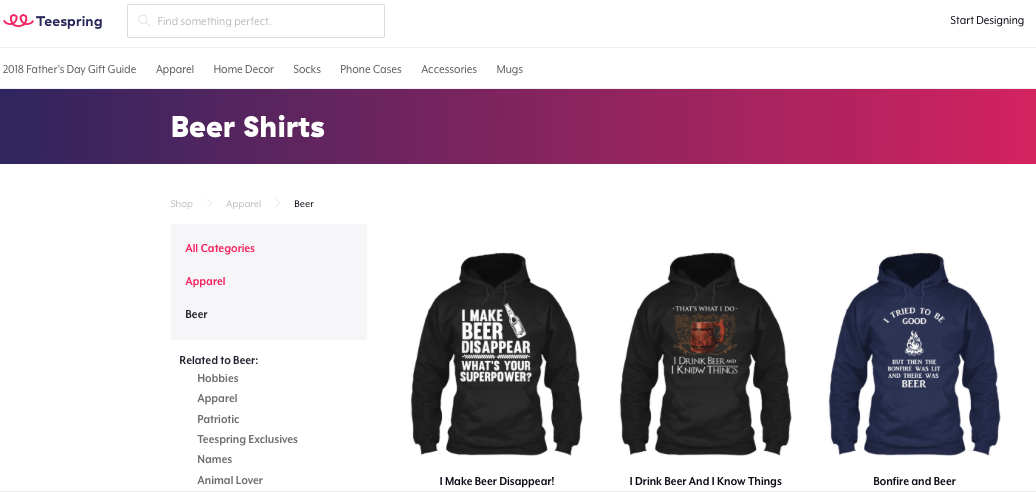 There were many courses on how to make money on Facebook using t-shirts and hoodies. These consisted of how to use print on demand websites to create your designs and also how to use Facebook advertising two get people to see your designs.
It reached the point where the marketplace was saturated. There were just too many people trying to sell t-shirts on Facebook. Also there were many companies copying Teesprings business model, some better than others. Some are still going strong and some have disappeared again.
Teespring have moved to stay ahead of the game and they extended what they offer to a much bigger range of products.
Teespring have plenty of tutorials to help you set yourself up properly for success. It is a pretty simple system for anybody to follow as well.
They have a Facebook page with 850,000 likes that you look at to see what they are doing at the moment and they also have a blog to give you ideas.
Pros a simple system with good T shirt prices
Cons no realistic chance of a passive sale. You need to provide your own audience.
To visit https://teespring.com
Printful
This company has a good range of products and a nice system for uploading your designs and creating mock ups. It has a major plus with it's integrations with marketplaces.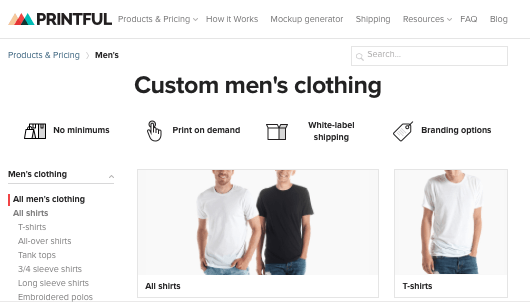 This gives it an advantage over other platforms as it eliminates a lot of work for the seller. It integrates with Shopify. BigCommerce , Etsy and several other platforms.
Pros – It simplifies the system for you
Cons – slightly more expensive on some of its products
To Visit https://www.printful.com
Spreadshirt
This company give you your own online shop and their product creation system takes one image and allows you to apply it to many products. This makes it very easy to have a shop with multiple products in it in just a few minutes.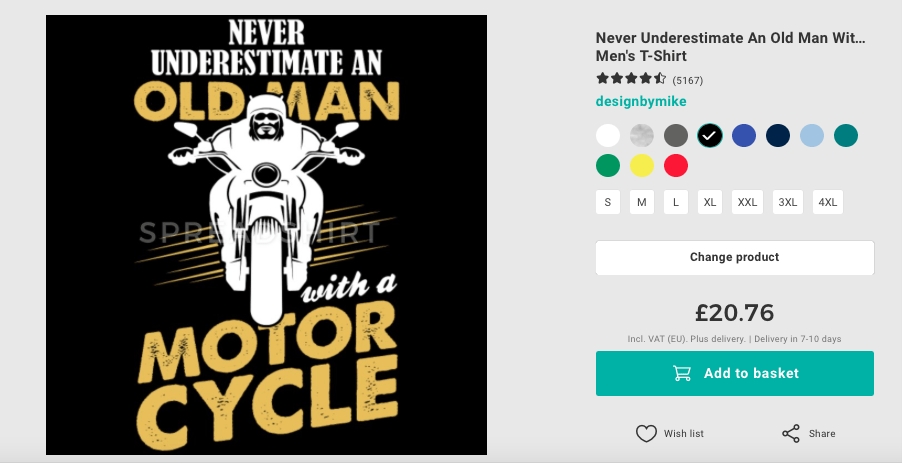 They have their headquarters in Germany but also have production facilities in Czech Republic, Poland and USA. A big company that makes it easy to sell in both North America and Europe.
Pros – Ease of use. Production on two continents.
Cons – confusing marketplace system
To visit https://www.spreadshirt.com
Gearbubble
This company is one of the newer companies in this business but has come in really strongly with a good selection of products an easy system to follow and a strong tutorial system. They particularly go out of their way to make sure that their customers have every tool necessary to make the sale. They even have basic Facebook Ads training to make sure you are getting the right traffic to your offers.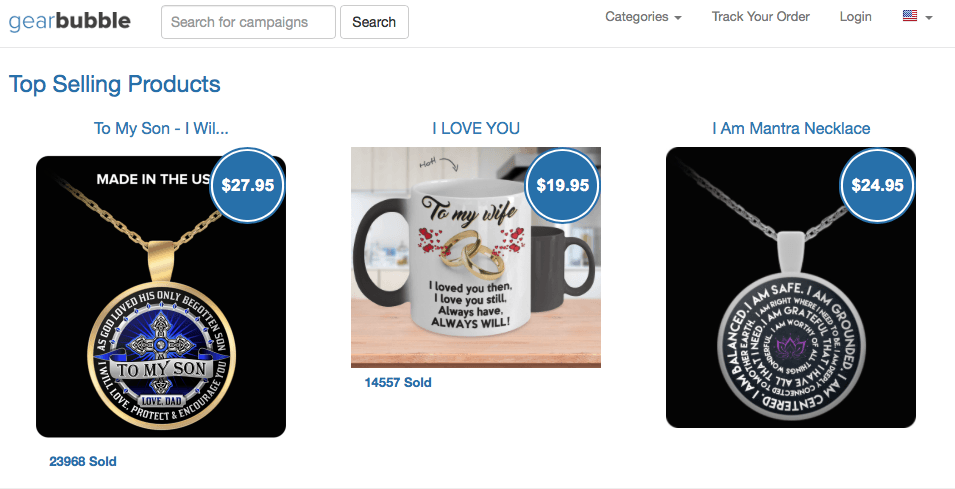 Gearbubble market T-Shirts like many other companies but also have a very good selection of jewellery with necklaces being a particularly successful product for them. They have a strong range of Coffee Mugs too. Their system makes it easy to put the same design on several different products and provide your own unique shop front. They also have an impressive upsell system which allows you to maximise your sales order values.
What I like most about Gearbubble is how it feels. It feels like they want to help you succeed as much as you want to succeed for yourself. One of the ways they do this is with a Facebook group. They keep you up to date with what is going on. What is also helpful is that you can gain knowledge, tips and encouragement from other people that are also selling their products.
Gearbubble is free to use but if you are producing good products there are paid upgrade integrations that you might decide you want to use to increase your product exposure.
Pros – community of sellers – simple product creation system.
Cons – some delivery time issues.
To visit https://www.gearbubble.com
Wrap Up on Suppliers
I can keep just going on with suppliers like Printify, Redbubble, Sunfrog, Society6 – the list goes on and on. You will find no shortage of suppliers particularly in the United States. If you are in Europe there is a good choice too. Teezily is based in France and Spreadshirt is based in Germany.
Each supplier has their own system for creating the product but also for marketing the product. For instance Redbubble has a particularly good search system, and product tagging system in their marketplace. So look at both aspects of each supplier when choosing who to use.
Just a word of caution with regard to shipping costs. When you are setting up your products please make sure you get your shipping costs right. You don't want to be losing all your profit on shipping costs. Get your ad targeting and shipping costs coordinated so you don't lose out. Shipping overseas can have prohibitive costs so know what you need to charge your customer if you plan on selling overseas.
I have chosen to use the Gearbubble system later in this report to explain the process to you because it feels the simplest and most logical of the ones I have used.