This final module is to give you extra ways to find insights into what might work for you. Also to give you extra chances to get your designs noticed. If you see examples of the same products with other peoples creations on them it can spark good ideas for you. Pinterest can provide you with both examples to help you with your creations and free exposure to help promote your products.
Product Examples
Here are a couple of examples of mugs that I spotted on Facebook that I thought had potential. I don't know the people who did these I just spotted them and thought they were quite good. I haven't researched whether they have sold well or not but I thought they probably would. One is quite funny and one appeals to lady bikers. I have tried to not jump around too much so mugs and bikers was the sensible choice. Mr Trump divides opinion but he can often raise a smile.
Do your research on the type of designs that work.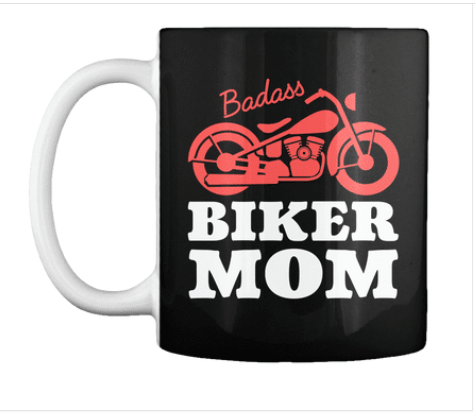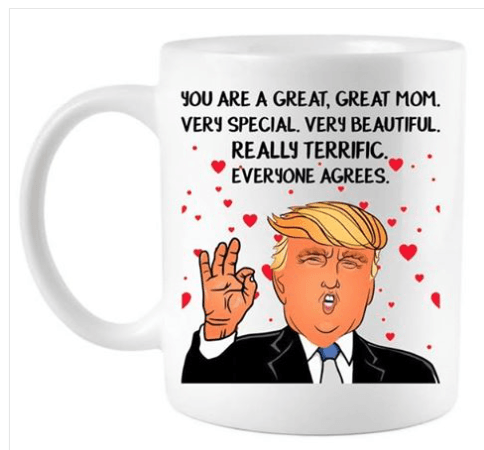 You can see that they both have appeal for mother's day. Both probably have appeal beyond mother's day but the biker mug is aimed at a particular type of mother. The Trump mug may well have wider appeal but jokes become stale after a while so I guess that has a limited time to sell. What I am trying to say is you need to think through every aspect of your designs appeal. Other people may look at your product in a different way to you so try to think about all possible reactions to whatever you are saying on your product. Current event products have a limited appeal but the good thing about Print on Demand is that it doesn't matter to you because you only produce stock if somebody has already bought and paid for it.
Pinterest Boards
One thing you must do is make sure you get your items on a board on Pinterest and linked back to your sales page because ladies love to look at this website and it is a great place to get free traffic.
Pinterest now has 200 million monthly users so it is huge and it is the second biggest referrer of sales online. If you going to use Pinterest to drive traffic to your products remember that the audience is heavily biased towards females with between age 20 – 40 the most frequent users.
Two thirds of the Pins made are from businesses. So the sort of product pins you would make are certainly expected on this platform.
Here I have pinned the mug we designed earlier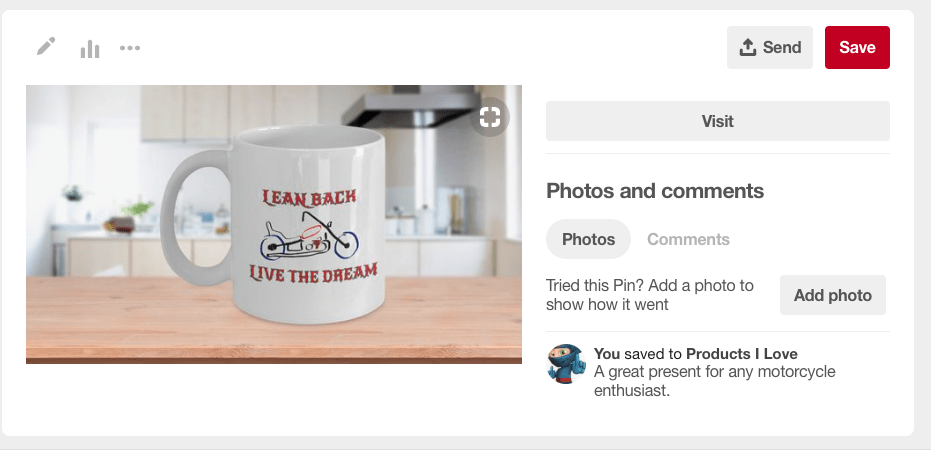 This page appears when you first add your product which is great but don't miss the value provided underneath. Directly below Pinterest provides a 'more like this' list. This gives you a page full of ideas about niches, slogans and creative designs that Pinterest thinks are the most similar to the item you have just posted. It is gold for people looking for inspiration.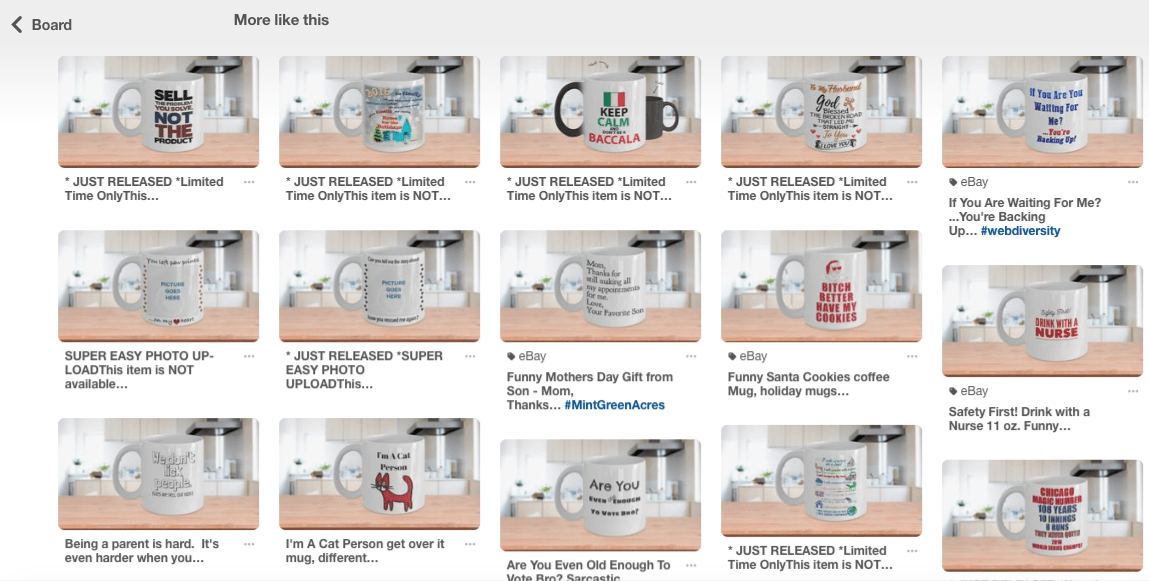 This picture shows about a third of the page of similar products and of course you can click right through to their sales pages. You can pick up tips on presentation and product description on the way. Keep learning what is working for others all the time.
Another great search you can do which will be of great benefit on Pinterest is this https://www.pinterest.com/source/gearbubble.com/
Here is a screenshot of the Pinterest search page. You can see that it gives you the latest post associated with Gearbubble and that our Motorbike mug is that very latest Pin shown.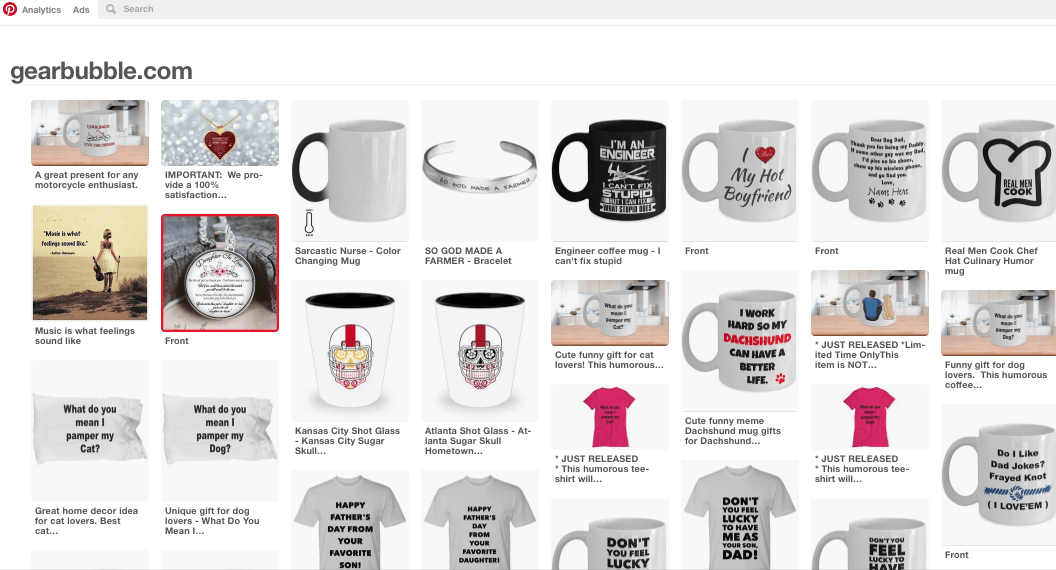 That search is good for any Print on Demand Supplier. You just need to replace the Gearbubble.com on the end of the link with Teespring.com or Printful.com or anybody else that you wish. You can even replace with etsy.com and see the latest pins linked to that marketplace. It will provide you with very useful insights.
PRO TIP: Use our Chrome Extension to quickly see the top posts from any of these sources.
Earlier in the report we showed a 'biker' search on Amazon. That is useful for design ideas but here is something that will help a lot more.
This is a Chrome Browser extension called Unicorn Smasher that will help show you how successful each T shirt is. It is a free extension from the Chrome Webstore.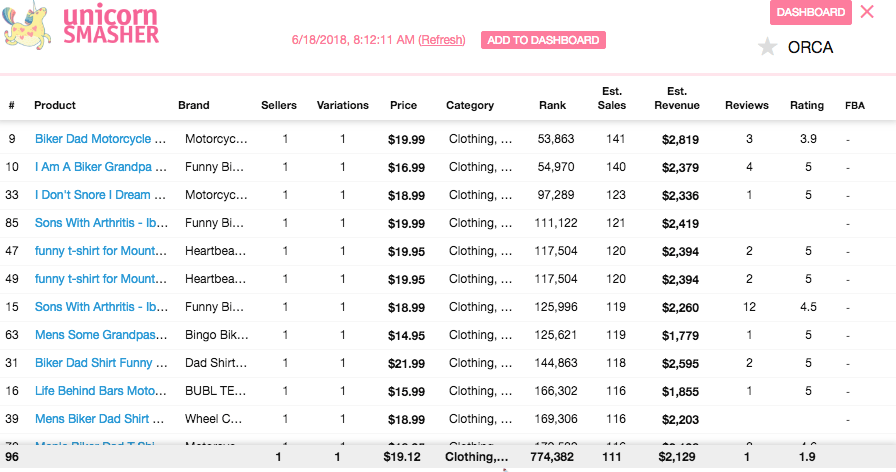 In this image I have the first 96 t shirts listed in order of which has the most estimated monthly sales per month. If you click the headings you can change the priorities so that the lowest product rank is first or the list can be in highest revenue order. All are useful and if you hovver over the description a picture of the t shirt pops up so that you can see which shirt the data relates to.
Conclusion
This report is intended to give you an appreciation of what is involved in running a Print On Demand business. It has shown that it can be one of the simplest businesses to run with the least amount of overhead.
There is a certain freedom to this business that is hard to explain. You are free to use lots of suppliers, free to use your own designs and there are lots of options in the way you decide to sell. It can be as simple as sending traffic to one sales page or you could set up your own website, be in marketplaces and have integrations. It is entirely your choice how far you wish to take it. The simplicity of the business gives you the options.
Doing the research is interesting and will help you to pick winners.
It can actually be quite fun to think of slogans that resonate with other people and create good designs. Also very satisfying when you get a winner and it becomes obvious that people like what you have created.
So if you choose to have a crack at this type of business I wish you every success and lots of fun!